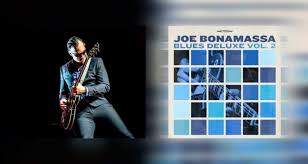 JOE BONAMASSA – 'BLUES DELUXE VOL.2' (J&R Adventures/Provogue) BLUES
REVIEW BY: THE ROCK 'N' ROLL PREACHER
"Blues Deluxe Vol. 2" by the guitar virtuoso and singer-songwriter Joe Bonamassa is an absolute triumph in the world of blues music! Joe has been on a remarkable musical journey, and this album marks a significant milestone in his quest for authenticity and self-expression.
Joe Bonamassa's prolific career has seen him release a staggering number of albums, and while some have questioned the breadth of his musical explorations, "Blues Deluxe Vol. 2" reveals a musician who is getting closer to his true musical self. With this album, he takes a step back to his roots, delivering a collection of blues standards and a couple of exceptional original compositions.
The two original songs on this album are gems that showcase Joe's multifaceted talent. "Hope You Realize it (Goodbye Again)" grooves with a funky, James Brown-inspired vibe, driven by a pumping brass section and Joe's scorching solos. It's a track that you can listen to on repeat and never tire of. "Is It Safe To Go Home?" is even more extraordinary, channeling the spirit of blues legend Gary Moore while Joe pours his heart and soul into every note. It's a testament to Joe's ability to capture the essence of the blues while making it his own.
Among the covers, two slow-burners stand out as highlights. "Win-O" by Pee Wee Crayton oozes with brooding, languid luxury, as if it's drifting through a haze of alcohol and cigar smoke. Joe's restrained guitar work blends seamlessly with the organ and brass section, creating a perfect blues atmosphere. "You Sure Drive A Hard Bargain," originally performed by Albert King, showcases Joe's ability to make his guitar wail and sing in the finest blues tradition.
Whether you're a die-hard blues fan or just discovering Joe Bonamassa, "Blues Deluxe Vol. 2" is a must-have album. It's an essential addition to any blues collection, and it showcases Joe's undeniable authenticity as a musician. Even if you've had reservations about his music in the past, this album will undoubtedly win you over. This album is a testament to that love and a true musical journey you don't want to miss. Nuff said!