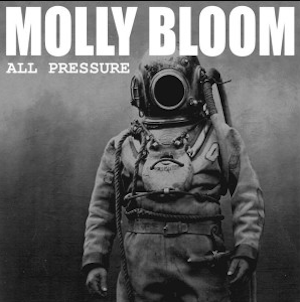 MOLLY BLOOM – 'ALL PRESSURE' (SELF-RELEASED) FOLK PUNK
REVIEW BY: THE ROCK 'N' ROLL PREACHER
Has it really been a decade since this brilliant album appeared? Good grief, where have the years gone? This sole release stands alone in a field of one, as one of THE best British Punk/ Folk Punk (delete as appropriate) releases of the twenty-first century. By rights, Molly Bloom should have been huge, they had the songs, the musicianship, the charisma, but seemingly, not the luck they so deserved.
The band: Steve Dundon (vocals/flute), Tyrion Moses (guitars), Derek Smith (bass guitars) and Andy Hunt (drums) quite literally sounded like no-one else – and this was both a blessing and a curse, as they could not be neatly 'pigeonholed' like so many other bands. I remember reviewing them at the time and describing their sound as being 'bawdy', which I still maintain is exactly right. Lazily, some journalists called them 'A Punk Jethro Tull', which I happen to know infuriated the band – and quite rightly so too.
Steve Dundon's voice is raspingly powerful he knows how to create atmosphere and drama through his lyrics, and as a flautist, he is elegant and fluid. Tyrion Moses is singly one of THE best guitarists on the scene, providing endless fretboard pyrotechnics that would put most others to shame. His sole use of semi acoustic guitars also set him aside from 'the mob', giving him a totally unique sound. The rhythm section of Derek Smith and Andy Hunt were powerful and adept at meeting every musical twist and turn – I say again, the band SHOULD have been huge.
The band was also very 'English' – it gave them a definite musical identity all their own. Somehow, they fused Folk, Punk, Prog Rock, Reggae, and as a result should/would/could also have appealed to Metal fans because of all of this. Live, the band was a total revelation, the sheer off the chart energy was something else completely – it was their natural element. I'm just glad I can put my hand up and say I got to see them a couple of times.
The album erupts into life with the wonderful 'Last One Rings Out', it has a powerful driving beat, a lovely chopping riff, a fabulous caustic vocal, and some fabulous solo pyrotechnics courtesy of Tyrion. 'Run If You Want To' sees Steve introducing his flute to the mix. This is a more deliberately 'paced' song, almost Thrash Metal in its technicality. Steve proves what an adept flautist he is, his instrument counterpointing Tyrion's harsh riffing.
'Mistress Winter' is a very different beast indeed. Arriving with furiously paced ferocity, this time the guitars are a mixture of acoustic and raucous semi-acoustic. Again, the rhythm section delivers the goods with masterful ease, Tyrion riffs like a bastard, while Steve Rages vocally, and his flute playing is delivered with almost sweet savagery. 'Come Creeping Up The Wall' is deceptively gentle at the start, before hitting home with huge force as the song continues. Tyrion yet again proves what a masterful guitarist he is, his fluid leadwork and Steve's furious vocal working beautifully together.
'Under The Bed' is a glorious romp, setting off a breakneck pace, Derek and Andy lay down a perfect 'gallop' atop which Tyrion powers along with a scything riff, while Steve delivers a suitably acerbic vocal. 'Molly Bloom' is next – Tyrion introducing the song with a delicate almost Tudor court delicacy accompanied by Steve's lilting flute. It really does feel as if the song will be a tender period piece, before the entire band eventually explodes into furious force – it is a wonderful instrumental, one I've always loved – with Steve's playful flute playing perhaps being the highpoint.
'Blood' opens wit some wonderfully intricate acoustic picking from Tyrion, before Steve's flute again takes flight … but in your bones, you just know so much more is coming … and of course it does! A twisted riff shatters the peace, and a demented cackle from Steve prefaces a venomous and malevolent vocal, Andy, Derek, and Tyrion laying down a thunderously heavy musical vista, it really is a twisted masterpiece.
'Green Force' is another romp, a truly epic song. A playful verse giving way to a heavy and vicious chorus. You can just feel the tempo building, it's almost Thrash Metal in its intensity. Then … it becomes weird, with a reggae breakdown of all things, which absolutely should not work … but simply does anyway. The band teases with an almost 'One' era Metallica intricate section that builds and builds as Steve howls furiously atop it all – before the song returns to a Skyclad-esque finale – Martin Walkyier himself would most definitely have approved!
'If' is almost a twisted Jig – a beat that entices you to join the dance, Steve alternately providing an elegant flute, and yet a bitter and snarling vocal – it's a curious combination … but works perfectly. 'Lock 'Em Up!' is a balls to the wall rocker, the band in fiery form, again, the music is somewhere between Folk-Punk and Thrash Metal, and is delivered with absolute joyous abandon.
The album closes with the magnificent title track, which rages along frantically – again somewhere between a demented folk jog and a Punk Metal blast of savagery. It has a kind of faux-end, before accelerating away again, then ending for good in a hail of feedback and ferocious rhythm work. This, boys and girls, is how to end an album properly! Molly Bloom, most probably the best band you've never heard of. Maybe one day we can persuade them to return? A man can dream.