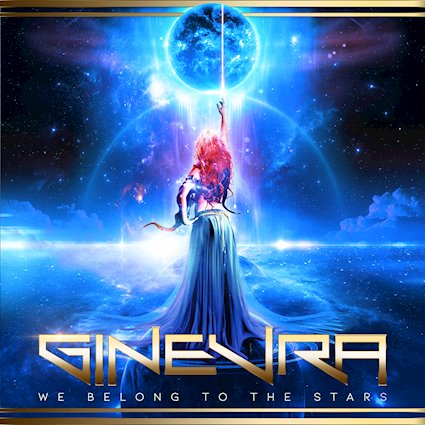 REVIEW BY CHRIS BLACK
ALBUM REVIEW – GINEVRA / We Belong To The Stars
Frontiers label continue their musical policy of another album under the 'project' banner, with the debut release of GINEVRA, who hail from Sweden and comprise of vocalist Kristian Fyhr (Seventh Crystal), guitarist Magnus Karlsson (Primal Fear), bassist Jimmy Jay (H,E.A.T.), and on drums Magnus Ulfsted (ex-Eclispe & Nordic Union), who together bring a heavier guitar/riff oriented album full of catchy hooks and melody throughout the album.
Fyhr brought the songs in to the album and his powerful vocals do capture your attention on this fine slice of melodic rock, and tracks such as the opening three tracks, 'Siren's Calling', 'Unbreakable', and 'Apologize' set the bar high. The five star track for me personally is when Chez Kane is brought in to duet with the band on 'Masquerade', with additional keyboards from Alessandro Del Vecchio making this one of the best melodic songs i guarantee you will hear this year.
Overall a fine debut album to check out and one that melodic rock fans everywhere will enjoy listening to time and time again.
Tracklisting:
Siren's Calling
Unbreakable
Apologize
Masquerade feat Chez Kane
Break The Silence
Brokenhearted
We Belong To The Stars
I'll Be Around
Falling To Pieces
The Fight
My Rock n Roll
Release date: September 16th, 2022
Available on CD and Vinyl.
Chris Black