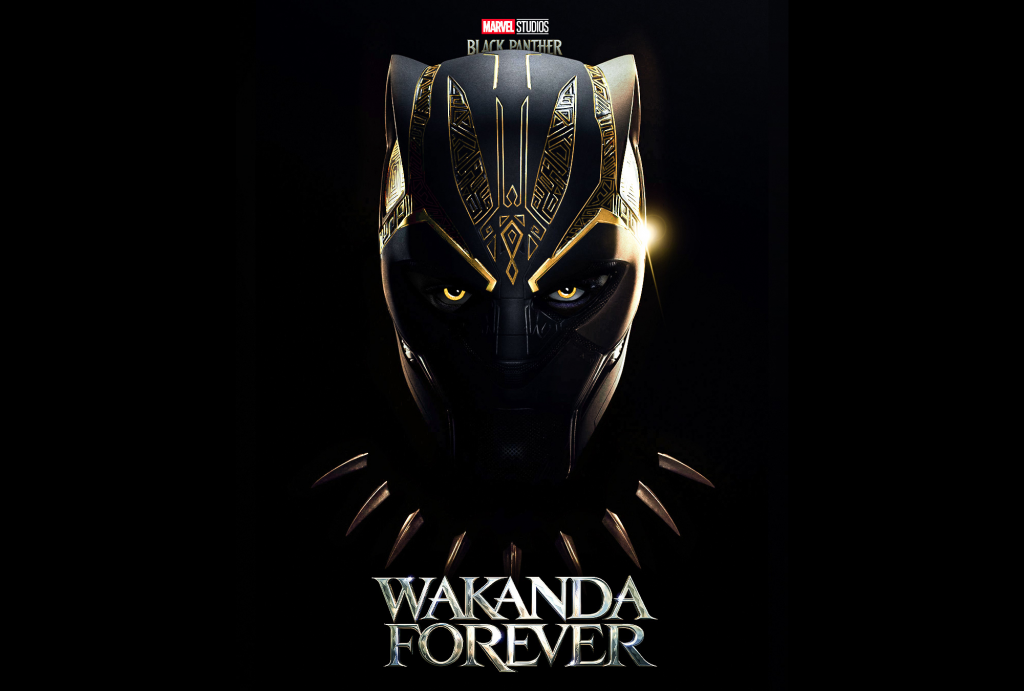 BLACK PANTHER: WAKANDA FOREVER
MARVEL CINEMATIC UNIVERSE
Directed By RYAN COOGLER
Starring: ANGELA BASSETT, LETITIA WRIGHT, DOMINIQUE THORNE, DANAI GURIRA, LUPITA NYONG'O, FLORENCE KASUMBA, JULIA LOUIS-DREYFUS, MICHAELA COEL, MABEL CADENA, TENOCH HUERTA MEJIA, MARTIN FREEMAN, WINSTON DUKE, MICHAEL B JORDAN, ALEX LIVINALLI.
Review By: The Rock 'n' Roll Preacher.
From the opening scene – high drama & tragedy unfolds in exquisite detail. Marvel faces the unenviable and impossible task of replacing the late lamented Chadwick Boseman – so are faced with the Herculean discipline of rewriting marvel history. The question is can they make it work. The answer is an emphatic 'yes'. 'Black Panther: Wakanda Forever' is a fitting farewell to the fallen star, while neatly setting up the next story arc for his country and its heroes and allies.
Living in remote western most Wales, means going to a decent sized cinema is a half day event – not easy when you have a house full of rescue dogs to leave for hours. As a result (and also as I have become Billy no mates) I missed both 'Avatar 2', & this big screen epic – so I am finally experiencing it c/o streaming on DisneyPlus.
The film also introduces the next major villain/ antihero for Marvel Phase 5 – Namor. (Tenoch Huerta Mejia). Interestingly, he is visually very different from the depictions of decades of comic books – so for older fans, he may take some acclimatising to – his visual appearance being far more Latino than the Eurasian comic book version of old. Namor is represented as being more tragic than truly villainous – the very epitome of a true antihero.
The film also sees the introduction of the character 'Riri Williams' – The next iteration of a teenage Iron Man – 'Ironheart' (played with real pizazz by Dominique Thorne. This will (of course) eventually lead to 'The Young Avengers' movie, along side Cassie Lang (Antman's daughter). Martin Freeman returns as Everett Ross with an expanded role – adding his usual light touch to proceedings. Angela Bassett is nothing short of majestic, turning in a tour de force performance as Queen Ramonda, while Letitia Wright (Princess Shuri) and Danai Gurira (Okoye) also shine throughout.
With the exception of Namor, all the strong/lead figures are female – and rightly so. Tenoch Huerta Mejia plays Namor with genuine conviction – he is complex and not one-dimensional like (for example) Thanos, it will be interesting to see if he discovers his heroic side in the fullness of time – as his comic book-self did of course. His comic book wife NAMORA is depicted here as his cousin, and is played by Mabel Cadena, while Namor's comic book nemesis Attuma is also present and correct, here portrayed by Alex Livinalli.
The scenes in Namor's undersea kingdom of Talokan are simply mesmerising- it's the combination of dazzling sets and haunting music, that give it its thrilling qualities. The film is visually and sonically beautiful, while the CGI is also absolutely perfect – it never ceases to thrill. However, 'Black Panther: Wakanda Forever' is not perfect, for a start it is way too long – at a painful two hours forty-one minutes! Some judicious pruning would have helped streamline it no end, I think at least twenty minutes could have been safely 'lost' without compromising the story at all.
If you are a hardcore Marvel 'buff' you will have kept your eyes open for the hidden 'easter eggs' found throughout the film. The notable one I spotted is Julia Louis-Dreyfus's portrayal of Valentina Allegra de Fontaine – who is Everett Ross's ex-wife, and who will go on to lead 'The Thunderbolts' -Marvel's infamous 'antihero' team in Phase 5 (I really am a hopeless anorak), I also thought I spotted Chadwick Boseman's birthdate on a car registration too (yes, I need to get a life). In summation, 'Black Panther: Wakanda Forever' pays a beautiful farewell to Chadwick Boseman, while re-inventing the titular character and then opening a whole new vista of storylines for future films and limited TV series. A brave and ambitious film – lovingly executed, and directed to perfection by Ryan Coogler. As the end credits roll, we are assured 'The Black Panther Will Return' – so here's to number three!