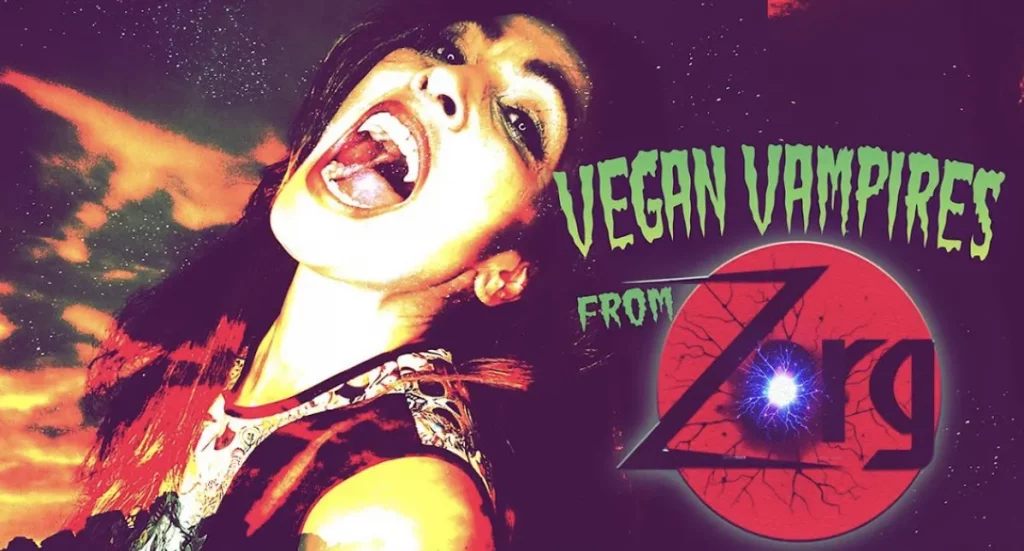 Vegan vampires from Zorg
World Premiere – first cut
The Peer Hat Manchester 27th of July 2023
Reviewed By: Asher Gould
'Vegan vampires from Zorg' is quite literally a film about how not to make a film and in this particular instance – the theme is horror.
Watching it was a queasy, but wonderful experience – with a soundtrack composed and written by the likes of Melanie Williams, Mike Bennett, and Peter Hook. Other contributors included Shane MacGowan, The Sex Pistols, Johnny Marr, Simon Wolstencroft and many more.
Basically, a team of vinyl geeks went to California to make a short horror film based around the iconic record store "Vinyl Solution". A subplot was added by Writer and record producer Mike Bennett – to include vampires lurking around in the vaults of the store.
However, everything went magnificently wrong, drugs, prostitutes and UK actresses going off to allegedly make pornography on the budget, and an alleged neo-Nazi midget running off with the film footage – leaving the producers exhausted and deliriously bewildered
However, this brilliant film has turned out to be a success, as producer Mike Bennett, and Dylan Roarke – whose credits are endless, turn the thing on its head, and made a documentary about the disasters that happened in California whilst filming the original script "Back to Drak"
Actors are interviewed, footage filmed by actors on mobile phones, outtakes, and a magnificent score, make for a highly entertaining surreal and time is hilarious experience. Not for the faint- hearted, it is definitely an X-rated (18) film, depicting Sexploitation, violence and genuine footage of the criminals – who sabotage the film shot on mobile phones, and footage found on the dark web!
Cameo appearances from Shane MacGowan, Peter hook, Fuzzbox, Coral Roberts and even Daryl Hannah who appears on the soundtrack make for a great eclectic group of contributors, and Wolfy Foxlow who is particularly funny recounting his trauma surrounding a Welsh alleged sex worker accusing him of hiring a hitman, and getting thrown off the plane on the switch over to LA – having had his drink spiked! The footage from him weeping in the cell on the switch over from Chicago, and finally making it back to Los Angeles, after being exonerated is included and great fun.
Mike Bennett, who has produced and worked with The Fall, Bananarama, Ian Brown, Hazel O'Connor, Wishbone Ash and many more – recounts many events that occurred in lurid detail, but with a sarcastic and droll tone to the humour rose throughout this fascinating film within a film. Micaela Infante is particularly good, where she performs a vampiric Ballet dance sequence.
Melanie Williams – the legendary 'Hacienda' classical vocalist and Carl Cox collaborator, is the best thing since sliced bread, as she plays The Healer, and also fairly sinister vegan vampire who is vicious but fair.
Drak, who owns the "Vinyl Solutions" store in Huntington Beach, California – makes for a great B-movie actor, and also tells vinyl tales, and gives out historical stories about iconic Punk and Pub rock bands from both the UK. He is something of a musicologist and a fascinating character, and indeed was the seed that provided the fertile soil in which this movie could grow and 'mutate' into 'Vegan Vampires from Zorg'.
It's coming out soon on Amazon Prime via One Media IP and Pinewood Studios
It's also coming to a cinema near you soon, so check it out as it is absolutely fabulous, and is a fascinating piece of work.
vegan vampires promo v2:
Root 66S:
https://vimeo.com/844592640?share=copy

The Healer – Melanie Williams ft Peter Hook:
https://vimeo.com/844592640?share=copy