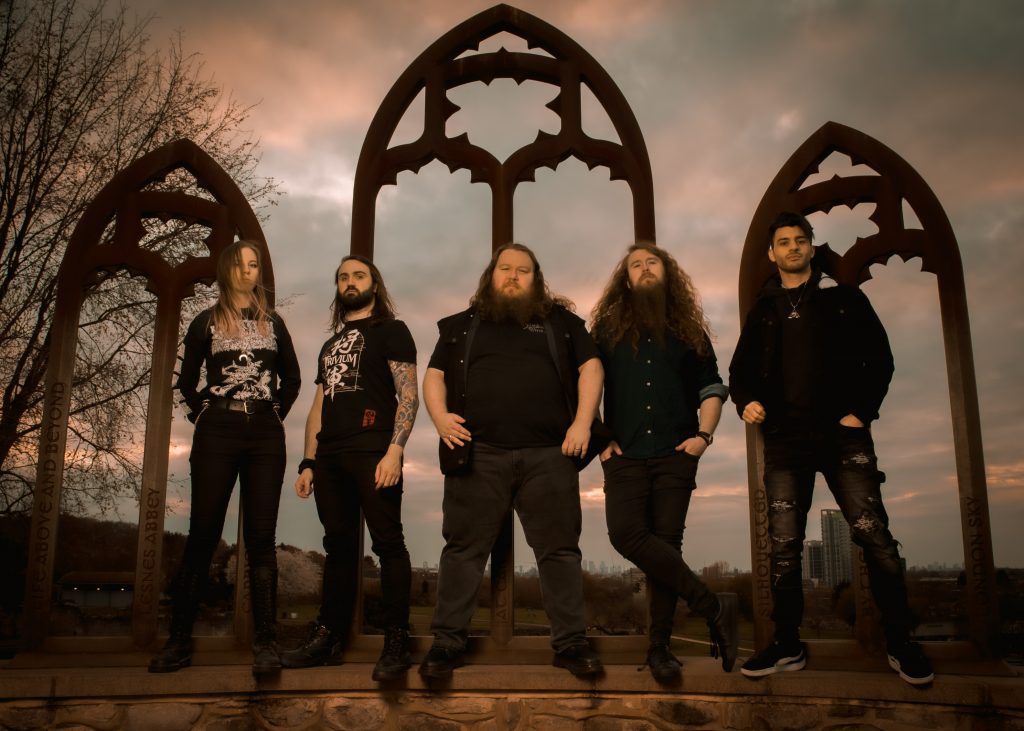 ENQUIRE WITHIN
(Devil's Clause Records)
Melodic Thrash Metalcore
Review By: SAMANTHA LOUGHLAN
Band members: Jacob Waller (Vocals)
Dan Lewin (Guitar)
Amelia Pellegrino-White (Guitar)
Henry Waller (Drums)
Erim Ahmet (Bass)
Track list: Burned
The Final Seal
Hey there Voodoo family! I've had a few weeks away from writing; however, I bring you something today which I hope you believe was worth the wait.
At Voodooradio.online, Nikki and myself are always on the lookout for new talent in the up-and-coming bands of the alternative music scene. A couple of weeks ago Nikki came across a particularly interesting melodic thrash metalcore band from Kent in London, UK.
Enquire Within were originally formed in 2016 by school friends Dan Lewin and Henry Waller, closely followed by Henry's brother Jacob. By 2019 the band had created enough material to release their debut album Bloodlines. The guys then performed a series of successful shows around the UK and landed a record deal with Metal Rocka Recordings. In 2020 the guys joined forces with Amelia Pellegrino-White and Erim Ahmet. This gave the band their solid 5-piece stature and the quintet took to the studio to record their live version of the previously released debut album at Hackney Road Studios.
During the Covid 19 epidemic, Enquire Within kept busy, recording and releasing their popular Under the Covers series on YouTube, which covers various bands such as Avenged Sevenfold and Power Trip.
By September 2021 the band had released their next album entitled Rebirth, spawning three singles, 'Get Out', 'Judgement' and 'I am Eternal', this particular album saw Enquire Within expand their musical palette and progress from metalcore into a new and heavier direction. Off the back of this album the band then headed out on tour as the main support band for UK thrash metal phenomenon Helgrind, a tour which not only took them all over England, but was also a major success.
In the summer of 2022, Enquire Within changed things up by switching their record label and moved over to Devil's Clause Records. This decision gave the band a real boost in their musical career and they moved on up the ladder, playing at more prominent venues in the UK.
As you can see so far, Enquire Within have come on in leaps and bounds since their formation and have made huge advances over the past few years. Today I am not only going to review a couple of their tracks but the band themselves have also taken the time to do an interview with us as well. Super exciting stuff!
Before we get into what Enquire Within have in store for us, I would like to take this opportunity to personally thank Jacob for liaising with me on this piece and the rest of the band for all their help in making this review/interview possible. It has been a pleasure working with you all. Thankyou!
So, the first track I am going to look at is 'Burned'. This song was released back in 2021 and is the 6th track from the album ReBirth. On first listening to this track, I was absolutely amazed by the vocals of Jacob Waller. The track is a magnificent display of soft and gentle melancholic vocals wrapped up in four minutes and two seconds of wonderous music. 'Burned' begins with a slow guitar-based intro with the vocals first joining in at twenty-seven seconds. Packed full of deep imagery and heartfelt lyrics this track is defined ultimately two minutes and thirty-four seconds in when the volume gap between the backing music and vocals is reduced and they come together to pack a punch of pure feeling and immense benevolence.
"I've killed all my compassion and all my bridges burned." This line which is repeated several times throughout the track in a chorus type format really sticks with the audience and in this way gives the track a catchy edge.
At three minutes and one second the track takes a turn and Jacob pounds out the vocals before demonstrating just how wide his vocal range is at three minutes and thirty-eight seconds where he uses the iconic metal technique of roaring. Some people just can't pull this off no matter how hard they try, but Jacob really gives it his all and undeniably smashes it. Pure talent!
Really enjoyed listening to 'Burned' as my first taste of what the metal heads from Kent had to offer. It left me wondering what else they had up their sleeve…
Now the second track I have chosen is the bands most recent single 'Final Seal'. Released on 30th June 2023 this record is in complete contrast to 'Burned' and really displays how wide a musical spectrum Enquire Within work in within their genre.
"Final Seal is a song about the end of the world. Throughout the song we ride alongside the horsemen into the fields of Armageddon. The song touches onto the idea that this may have already been put into motion and only the final seal of the apocalypse remains."
– Jacob Waller (Vocals)
At three minutes and fifty-six seconds in length, 'Final Seal' is an elaborate tale of darkness and destruction. I particularly love the imagery in the track. It is one hundred percent clear what the song is about and the highlighting of the four horsemen's names throughout, really give it that extra chilling vibe. "War – Plague – Famine – Death."
The chorus of this track is unexceptionally powerful. "The final seal the end of days, the horsemen's hooves will pave the way. And lead us into glorious suffering." The lyrics really bring out the vibe of the track and we can all feel the horror and emotion caused by the end of days.
All the way through the audience can bop along to the truly catchy drum beat given out by talented musician Henry Waller. On this note, I was overly impressed and unequivocally wowed by Amelia Pellegrino-White and her magic fingers sneaking in a crazy guitar solo into this track at two minutes and twenty-six seconds in. First off, it isn't a common thing for a female to be in a metal band, let alone be able to pull off a riff like that! Bloody magnificent! You go girl!
To accompany this amazing track, the band have put together one belter of a music video. (Watch it here  Final Seal (Official Music Video) – YouTube.) From what I can see the entire video was filmed in what seems to be an abandoned church and it truly works in setting the atmosphere for what the track is all about. I particularly love the iconic image presented by portraying the four horsemen of the apocalypse all dressed in black and holding flags to represent what they stand for. Very gothic and incredibly powerful! I feel the band have done a tremendous and ultimately professional job in putting this video together and I'm excited to see the next one.
So, there you have it, my take on the metal maniacs from Kent known as Enquire Within. Let's see what the band themselves have to say…
What genre of music do you feel you most relate to?
We have quite a wide range of influences, but in terms of what we most relate to, probably melodic thrash with aspects of metalcore. It's a very early 2000s sound, which makes sense. Most of us (cough cough, Amelia) were teenagers in the noughties, albeit at different ends of the decade.
Who are your musical influences?
Trivium, Avenged Sevenfold, SOiL, Death and some of the classic 80's thrash bands. Our music is very 'riff first'.
How hard is it to approach next level promoters?
It's incredibly challenging. People that we've reached out to previously are often looking for already established acts, so trying to build up a fanbase is incredibly challenging. We just have to trust in our music and what we are doing. If you have any contacts, please let us know 😂
What plans have you got for this year?
We've just released a single, Final Seal. It's our first single after our last album and I think it shows the direction that we're going in for… well I suppose you'll have to wait for that. We've got a single release show planned for the Black Heart in Camden at the end of July, and we're playing a festival with the London Metal Coalition headlined by Red Method in September.
Are you playing at any festivals?
As I said before, we're also playing a festival at New Cross with Red Method. It's our first time working with them, so it'll be a fun experience. Bloodstock is one we're always trying to get into. It's got such a great culture there; we'd love to be a part of that. We've played a few festivals over the last couple of years; a couple of O2 academies, Sheffield and Birmingham in particular. It's really cool playing the mainstages at the O2's. They're so well equipped and it really gives you the best platform to promote yourself. We've got some footage from Sheffield on our YouTube channel that really shows off what we can do.
Which artists past or present would you collaborate with?
Wow, that's a big question. We'd love to work with Trivium or Bring me the Horizon. We also saw Employed to Servesupporting Gojira, both bands that we really look up to.
Who would you compare yourselves to?
We try not to compare ourselves with other bands too much, it's already tough enough to stand out that we really try to focus on what we'd like to listen to.
What has been your favourite performance given so far?
It has to be in Ibiza, the week stay there was amazing plus seeing the audience sing along to our cover of 'Aerials' was magical. We had people that we'd never seen before singing our songs back to us. It was heartwarming to see that.
What are you working on music wise right now?
Well, that would be telling now, wouldn't it. Let's just say we've got March/April next year circled in our calendar for some reason. I've got no idea what that could possibly mean.
10. Where do you draw inspiration from for your lyrics?
Our lead singer writes pretty much all our lyrics. He is a little obsessed with demonic and apocalyptic imagery, he was brought up in a religious household so a lot of the messages he creates have that "fire and brimstone" vibe to the end of the world. Our latest single 'Final Seal' talks about the four horsemen of the apocalypse as they ride across the world bringing a mushroom cloud with them. Cheerful stuff.
11. What was the best gig you've ever been to and why?
That's a tough one, Devin Townsend at the Royal Albert Hall was fantastic (both times). Gojira at Ally Pally. I'd have to say Porcupine Tree at Wembley Arena, I never thought I'd be able to catch them live after such a long hiatus.
12. What do you love most about being in a band?
Probably being on stage, the adrenaline pumping and being able to play music that we all enjoy is what makes being in a band awesome. The feel of the noise on and off stage is just surreal.
13. How do you deal with disinterested audiences?
Jacob has a very good way of adapting to a crowd. Sometimes you need to push them a bit, other times you've got to back off and let the music speak for itself. there's no use yelling at an audience to get hyped. You need to be part of that audience and invite them into having a good time. I think that's what we do best on stage, make sure everyone is having a good time.
14. What interests and hobbies do you have outside of music?
As a band I would all say food and entertainment. Good films during a great takeaway together are always an enjoyable weekend!
15. Have you got any exclusive gossip you can share with voodooradio.online?
What goes on tour, stays on tour!
16. Would you consider allowing voodooradio.online to play your tracks and promote any future gigs?
Hell yeah! You've only got to ask. We can send you some of our favourite tracks.