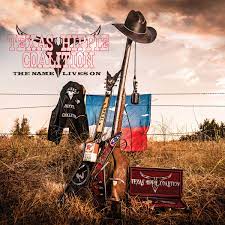 TEXAS HIPPIE COALITION – 'THE NAME LIVES ON' (MNRK Records) SOUTHERN ROCK/RED DIRT METAL
Review By: The Rock 'n' Roll Preacher
Prepare yourself for a musical journey like no other with Texas Hippie Coalition's latest release, 'The Name Lives On'. This album is an absolute masterpiece that truly showcases the band's exceptional talent and creativity. Right from the explosive opening single "Hell Hounds," it's clear that this is an unrelenting ride of head-banging, fist-pumping goodness that you won't be able to resist.
One of the things that sets Texas Hippie Coalition apart from their peers is their ability to create their own unique sound, and with 'The Name Lives On', they have created something truly special. The band has developed their own genre, 'Red Dirt Metal', which is a sound that must be heard to be believed. The chemistry between the band members is undeniable, and you can tell that they're having a blast making music together.
The line-up of Big Dad Ritch on vocals, Cord Pool and Nevada Romo on guitars, Larado Romo on bass, and Joey Mandigo on drums is absolutely incredible throughout the album. They effortlessly combine muscular riffs with colossal hooks, resulting in an album that packs a punch and demands your attention.
'The Name Lives On' is a masterclass in Southern Metal, with each track offering something unique and exciting. From the towering statement of intent of "Hell Hounds" to the shuffling beast of "I Come From The Dirt," and the mid-tempo, hip-shaking rocker "Built For The Road," this album has it all.
The bombastic anthem "Scream" is a standout track that showcases the band's exceptional talent for delivering a huge riff, a down and dirty bassline, and a killer chorus. "Hard Habit" slows things down with a stuttering riff and staccato rhythm, but with a gloriously melodic chorus that is sure to get stuck in your head. "Believe" is a true Southern Rawk gem of a number, complete with a fabulous chorus that you'll be singing along to.
"License To Kill" is another slow-burner that showcases Big Dad Ritch's powerhouse vocal abilities. He truly is one of the best Southern Rock vocalists in a very long time. "Keep Your Name Out Of My Mouth" is a heavy track that lands somewhere between Black Label Society and Pantera in sound and feel, while "I Teach Angels How To Fly" is a smoldering and soulful number that showcases Ritch's beautiful vocal abilities. The album coda, also the title track, ends the album in gloriously Red Dirt/Southern Rock style – it's mean, moody, and utterly magnificent.
Overall, 'The Name Lives On' is an exceptional album that will leave you breathless from start to finish. It's a testament to Texas Hippie Coalition's immense talent and creativity, and it's sure to be a hit with fans of Southern Metal and heavy music in general. It's a shame that the band can't tour outside of the USA, but this album is an absolute must-listen for anyone who loves hard-hitting, heavy music. 'The Name Lives On' is an instant classic that solidifies Texas Hippie Coalition's place as one of the most exciting bands in modern music. Can I get a 'Hell Yeah'!