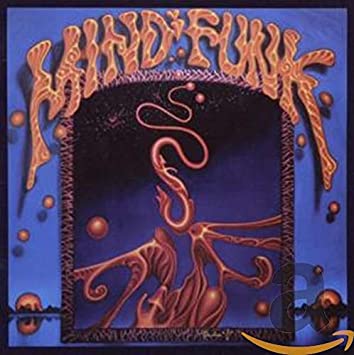 MINDFUNK – 'MINDFUNK' (Epic) ALT ROCK/METAL
Review By: The Rock 'n' Roll Preacher
Mindfunk's self-titled debut album is a masterpiece of the alt metal genre. With a unique blend of Post-Grunge, Alt Rock, Thrash Metal, and Hardcore, this underground supergroup created a sound that was truly ahead of its time. The original name "Mind Fuck" was a sign of the band's determination to be absolutely no-holds-barred in every respect, and this raucous attitude can be heard on every track of this album.
The band came from a surprising range of musical backgrounds: Pat Dubar had previously fronted Hardcore heroes Uniform Choice, drummer Reed St. Mark had been the powerhouse behind avant-garde metallers Celtic Frost, bass guitarist John Monte and guitarists Louis Zvitek and Jason Coppola had all played with M.O.D Chemical Waste, Human Waste Project, and a host of other outfits.
One of the standout features of this album is the excellent musicianship and song-writing on display. Each member of the band brings their own unique style and influences to the table, resulting in a sound that is both eclectic and cohesive. Pat Dubar's raging voice is thick with acerbic fury and excoriating attitude, and melds with the music perfectly.
The album opens with 'Sugar Ain't So Sweet' a track that starts with an alluring melody before building into a chugging metal riff. 'Blood Runs Red' follows a similar trajectory, with the added bonus of salsa-style drumming that adds a touch of funk (yes, the dreaded F word) to the mix. 'Bring It On' stands out as a track with an excellent mid-pace groove, while 'Ride and Drive' and particularly 'Big House Burning' are full-speed metal juggernauts that will leave you breathless.
But perhaps the most unique track on the album is 'Sister Blue,' an acoustic-led bluesy number that showcases the band's versatility and Louis Zvitek's tasteful soloing. This track is a testament to the band's ability to incorporate a wide range of influences into their music and create something truly original. You can hear musical elements as diverse as Warrior Soul, Suicidal Tendencies, Soundgarden, Metallica, and even Cro-Mags within the mighty grooves of this debut.
Overall, Mindfunk's self-titled debut album is a must-listen for anyone who appreciates originality and innovation in music. This debut album is a true representation of the band's unique sound and the era in which it was created. The band's members have gone on to achieve varying degrees of success in their respective careers, but this album remains a testament to their creative vision and musical prowess. Highly recommended.