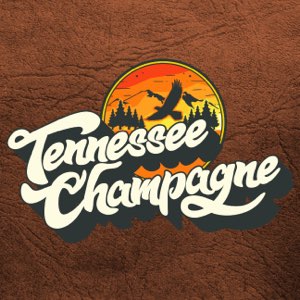 TENNESSEE CHAMPAGE – 'TENNESSEE CHAMPAGNE' (INDEPENDENT) SOUTHERN ROCK
REVIEW BY: THE ROCK 'N' ROLL PREACHER
Tennessee Champagne, hailing from the picturesque town of Elizabethton, nestled deep within the soul-stirring Appalachian Mountains, graced the world with their debut album in 2020. As I reminisce about this phenomenal record, originally celebrated in my glowing review for 'Fireworks' magazine, I can't help but marvel at how it deserves to be etched into the annals of timeless musical classics.
This album, dear readers, is nothing short of a masterpiece. Tennessee Champagne, a band comprised of extraordinary talents, should leave an indelible mark on the Southern Rock and Outlaw Country scene. Chris Kelley's soulful vocals and masterful bass, Dan Britt's electrifying guitar work, Jonathan Grindstaff's soul-stirring slide guitar, Tim Hall'smesmerizing organ and vocals, and Bill Cowden's powerful drumming – collectively birthed a sound that resonates through the ages.
Their music, a glorious blend of classic moody Southern Rock and evergreen Outlaw Country, channels the spirit of legendary bands like Lynyrd Skynyrd, Blackberry Smoke, Delta Rebels, The Black Crowes, Hogjaw, Atlanta Rhythm Section, Black Stone Cherry, ZZ Top, and The Allman Brothers. It's a sound that transports you to the heart of the American South, where the bourbon flows and the blues run deep.
Now, let's take a stroll through the track-list of this musical gem, 'Tennessee Champagne': Wicked' is a fiery, foot-stomping opener that grabs you by the soul, and simply never lets go. 'Thunder In The Mountains' is a (and please forgive the pun) thunderous anthem that reverberates through the hills and valleys. 'Can't Get Over You' is a heartfelt ballad that tugs at your heartstrings. 'Mountains In My Bones' feels like a journey through the very essence of the Appalachians.
'Silver Tongue' is a sprawling epic that weaves a sonic tapestry of emotions, while 'Stompin Grounds' is a rollicking, down-home tribute to their roots. 'Selfish Ways' is a bluesy confessional of human imperfections, and 'Corn From A Jar' is a toe-tapping, moonshine-infused delight. The album winds towards a perfect close with 'Singing To My Broken Heart' a soul-baring ballad that lays bare the scars of love, and album coda 'Shake It' is a rousing, electrifying conclusion that leaves you craving more.
In a world where musical greatness is often fleeting, 'Tennessee Champagne' stands tall as a testament to the boundless talent and unbridled passion of its creators. It's a timeless classic that will forever hold a cherished place in the hearts of those lucky enough to have discovered it. Though the band may no longer grace us with their presence, their legacy lives on through this extraordinary album. Tennessee Champagne deserved to be absolute giants in the music world, and their sole record is the shining proof of that potential. Raise your glass to this musical treasure, for it is a toast to the finest of Southern Rock heroes.