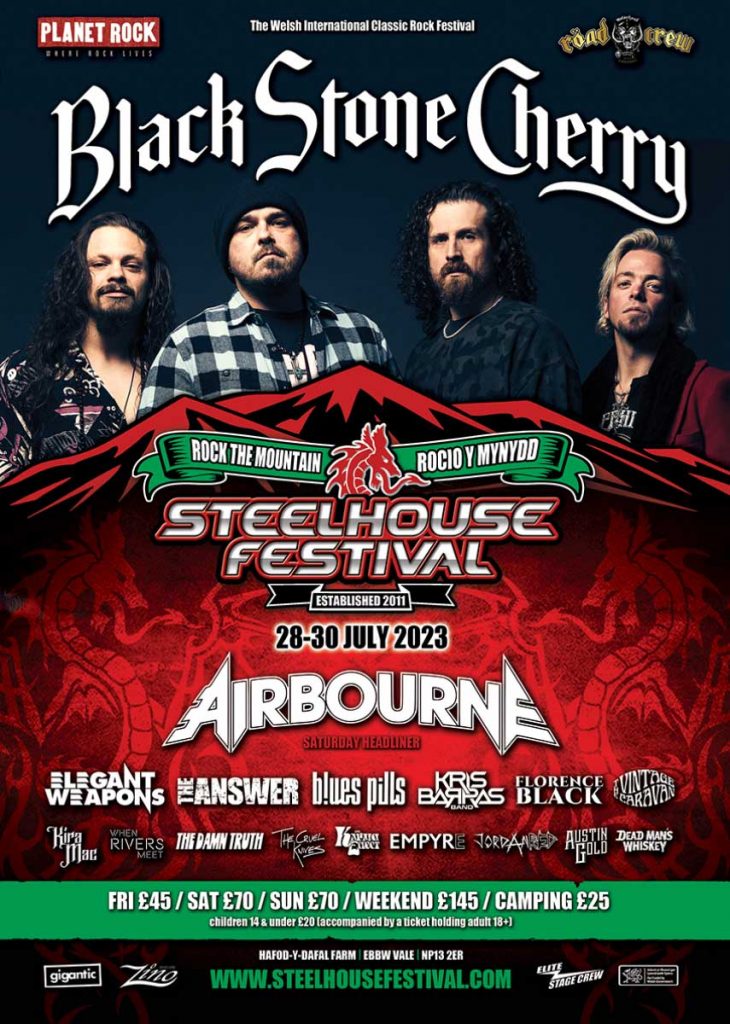 STEELHOUSE FESTIVAL 2023
REVIEWED BY: SHARPY
On a mud sodden farmers field on top of a mountain in South Wales, a steel stage is erected awaiting the bands for the STEELHOUSE FESTIVAL 2023 from 28th to 30th July.
This year has a truly international feel, with AIRBOURNE flying in from Australia, Sunday night headliners BLACK STONE CHERRY from Kentucky, as well as other artist's that have made their way over for the festival from places such as Canada, Iceland, Belgium, and Sweden.
DAY 1

It was once said that the most important 2 bands of a festival are the 1st and last, and
Dan Byrne (former front man to Revival Black) certainly did ignite the stage. With his Rock'n'Roll tracks such as Wide Awake, and his own cover of 'Give Me All Your Love', Dan is a voice not to be ignored. Being fresh out of the recording studio he is looking to soar with his new material. You have definitely not heard the last of Dan Byrne.
KRIS BARRAS BAND – Headliner for the Friday night, and very worthy of it with monster tracks like 'Ignite (Light It Up)' and 'Hail Mary'. Kris Barras Band are an amazing rock'n'roll band that has to be seen live to admire Kris's Guitar Shredding.

DAY 2
The 2nd Welsh band of the night took to the Steelhouse stage, and they were not taking any prisoners! With amazing vocal performances and screaming guitars and solo's, Those Damn Crows are well deserving of a headline spot for the future.
AIRBOURNE – The Aussie band hit the Steelhouse stage with the rain drenched crowd not knowing what hit them. With Joel going on a wonder in the crowd on the shoulders of a security guard, while smashing a can of beer on his skull till it burst (The Can That Is), it was good old fashioned 80's rock n roll with a dont give a fuck attitude! Brilliant Saturday Night Headliner.
DAY 3
Troy Redfern opened the final wet and muddy day of The Steelhouse festival with his southern style rock, he had everyone on their feet or tapping their feet to his very catchy slide guitar riffs and lyrics, knocking out such tracks as Gasoline, Come On, Ghosts.
Empyre attacked the stage with their no nonsense look on rock music with no holds barred attack of guitar, blasting out the tracks 'New Republic', 'Relentless', 'Hit and Run' and the eyebrow raising cover of David Guetta featuring Sia song 'Titanium'.
Steelhouse welcomed The Vintage Caravan all the way from Iceland to a rainy mountain top in South Wales, TVC soon lifted the mood with their blend of modern and classic rock.
A real crowd favourite with their Irish bluesy heavy riffs, and catchy lyrics, The Answer really was the answer to a crowd of wet cold muddy rockers. As soon as they hit the stage the mood lifted, with vocalist Cormac Neeson in a nice clean white blazer until he went into the crowd with mud handprints all over it. With tracks like 'Blood Brother', 'Livin' On The Line', and 'Keep Believing', the first album in seven years from the guys, is a real message that they are back to their best.
BLACK STONE CHERRY took to a smoke-filled stage with ripping guitars and Ben Wells jumping around like a 6 year old with a bag of skittles. Banging out hit's like Blame it on the boom boom, White trash millionaire, and the first ever public performance of the latest single 'Screamin' At The Sky'. BSC cemented themselves in Steelhouse Festival history with this amazing performance, and they sure played like their lives depended on it. Chris Robertson's frontman for BSC made many references to the road leading to Steelhouse saying he was worried for his life going down the mountain. But all in all, Steelhouse could not have closed with a better band plus the Fireworks.
Nor Rain nor Mud can stop ROCK 'N' Roll!
ROLL ON STEELHOUSE FESTIVAL 2024.
Sharpy's Rock 'n' Roll Train.
Sundays 7pm gmt www.mmhradio.co.uk
Wednesdays 10pm gmt www.voodooradio.online
Photography by E.Sharp Photography