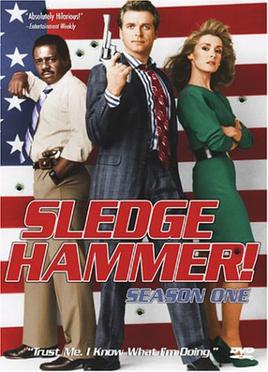 'SLEDGE HAMMER!'
Review By: The Rock 'n' Roll Preacher
Looking for a cop show that will have you laughing from beginning to end? Look no further than 'Sledge Hammer!'This American satirical police sitcom is a true gem, filled with clever writing, talented acting, and hilarious moments that will leave you in stitches.
The show follows the story of Police Inspector Sledge Hammer, brilliantly played by David Rasche, who is a biting caricature of the standard 'cop on the edge' character. With a stubborn, narrow-minded, opinionated, sexist, and reactionary personality, Sledge is a character who is so over-the-top, he's absurd. His obsession with his beloved .44 Magnum, which he refers to as his 'amigo' and even 'rests' by him as he sleeps – on a white satin pillow, is just one of the many quirks that make him such an entertaining character. His horrible taste in clothing also marks him as an 'anti-fashion' icon!
One of the many things that really makes the show special is the chemistry between Sledge and his partner, Detective Dori Doreau, played by the lovely and talented Anne-Marie Martin. Despite their differences, the two characters work incredibly well together, and it's clear that Dori has some romantic feelings for Sledge. We never quite work out if Sledge is capable of actually feeling any such emotions – unless it's for his 'amigo'! Harrison Page is also fantastic as the long-suffering Captain Trunk, who tries his best to supervise and control the trigger-happy Sledge – with varying degrees of success!
In the opening moments of the first episode, we see Sledge rake out a sniper atop a city skyscraper, with the use of a bazooka … he just happens to have in the back of his car! This, much to the apoplectic rage of poor Captain Trunk!Minutes later he uses his 'amigo' to fire a canned drink from an errant dispenser! Welcome to the world according to Sledge Hammer! All criminals are labelled 'scum suckers', and Sledge delights in finding cruel and unusual, violent, and inventively sadistic ways of torturing such miscreants! Villains beware! It's Hammer Time!
Films are mercilessly lampooned during the two seasons, from 'They Shoot Hammers Don't They' ('They Shoot Horses Don't They'), 'Witless' ('Witness'), 'Dori Day Afternoon' ('Dog Day Afternoon'), 'A Clockwork Hammer' ('A Clockwork Orange'), 'Hammeroid' (Robocop'), 'Play It Again Sledge' ('Play It Again Sam'), 'Death Of A Few Salesmen' ('Death Of A Salesman'), 'Vertical' ('Vertigo'), 'Sledge In Toyland' ('Babes In Toyland'), 'They Call Me Mr Trunk' ('They Call Me Mr Tibbs), and finally 'Here's To You Mrs Hammer' ('Here's To You Mrs Robinson' from'The Graduate'). Nothing and no-one and were safe from Alan Spencer's satirical harpooning!
Two of my personal favourite episodes were 'Under The Gun', in which Sledge and Dori are forced to become reluctant partners, then 'Hammeroid' in which Sledge breaks every bone in his body, and has to be enclosed (in deliberately the most cut price and ridiculous) robot suit – including a flashing lamp on his head. My absolute favourite will always be 'Desperately Seeking Dori'- when it's very bad news for the city's scum suckers: a blow to the head results in Doreauadopting the ultra-violent personality and mannerisms of Sledge (including his shocking dress sense!) – but to the nth degree! – much to the admiration of Hammer, but the total horror of Captain Trunk who can only howl 'Stereo Hammers!'
The show's guest stars are also incredible, with appearances by Bill Bixby (TV's original Bruce Banner in 'The Incredible Hulk'), Davy Jones (The Monkees), Adam Ant, Michael Des Barres (Detective, Silverhead/Chequered Past), Sid Haig, Robin Leach, Richard Moll, and Bud Cort. Despite network executives moving its schedule times repeatedly, the show attracted nearly twenty million devoted viewers every week, and it's not hard to see why.
Overall, 'Sledge Hammer!' is a must-watch for anyone who loves a good laugh and appreciates clever writing and talented acting. Despite being cancelled after its first season, the show's final episode, where Sledge accidentally destroys the city while attempting to disarm a stolen nuclear warhead, received better than expected ratings and led to a second season – which conveniently was set five years prior to the first – despite effectively obliterating the show's own timeline. For fans everywhere – it was truly a case of a willing suspension of disbelief!
With a total of forty-one episodes over two seasons, 'Sledge Hammer!' continues to be a beloved cult classic that will have you laughing out loud. Trust me – I know what I'm doing!