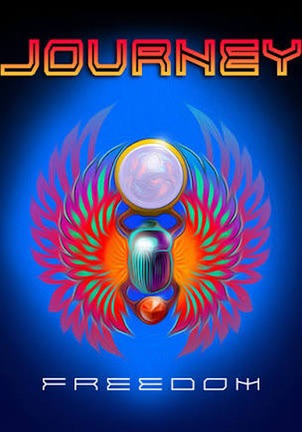 JOURNEY – 'FREEDOM' (Frontiers) AOR/MELODIC ROCK
REVIEW BY THE ROCK 'N' ROLL PREACHER
It would be fair to say that rarely has one album caused (a) such feverish excitement and expectation amongst Rock music fans, and (b) has conversely caused such widespread contradiction in thoughts about it! I've deliberately waited and lived with it for a few weeks, so I can give it the review it justly deserves.
There have been criticisms the guitar is too guitar driven – personally I'm not sure why that is a problem. There are further criticisms that Jonathan Cain's keyboards have somehow been muted by Neal Schon (manifestly untrue). There have been criticisms that the production is uneven throughout (there are elements of truth in this). There have even been some criticisms of the album artwork – which personally. I think is cool and elegant in its simplicity.
It would be fair to say that Neal Schon has been the driving force behind 'Freedom' – being the one member who was pushing to have new music released after an eleven-year hiatus – so in many ways, this album could justly be said to be his 'baby', and he has every reason to feel very proud of his 'offspring'. As I've already said. it is a very guitar-centric album as a result, but I cannot begin to fathom how this can remotely be a bad thing though?
Next, we have to address Arnel Pineda, who for the first time, has completely stepped out of the shadow of Steve Perry, and has finally found his own sound and style. Here Arnel is in imperious form, his voice soaring elegantly throughout the album, his performance is nothing short of glorious throughout.
Jonathan Cain (as ever) provides beautiful washes of sound and colour to proceedings, his luscious keyboards providing the perfect counterpoint to Neal Schon's gorgeous guitars. It's hard to imagine how the band could ever be as successful without their potent pairing – both as musicians and songwriters.
The album was (of course) recorded with the rhythm section of Randy Jackson (bass) and Narada Michael Walden (drums), both of whom have since been replaced – Randy initially by Marco Mendoza now by Todd Jenson, and Narada by returning powerhouse Deen Castronovo. Huge credit must go to both Randy and Narada, whose performances throughout are nothing less than flawless, being sometimes subtle and dextrous, and other times thunderously heavy – and the balance is what makes this album live and breathe as it does.
So, to the songs. I have the Japanese copy, which features an extra track, so while the standard album features fifteen, mine (obviously) has sixteen. The album therefore clocks in at a hefty seventy-five minutes, but at no point does it ever disappoint. It features a heady fusion of foot-stamping rockers and haunting and beautiful ballads, and on this occasion, the balance is kept exactly right.
An elegant piano and Arnel's dulcet tones open the song 'Together We Run' before the band positively explode into the song proper. This has a terrific chorus, and is absolutely vintage Journey, being a really perfect statement of intent. Following it is the brilliantly addictive 'Don't Give Up On Us' – another glittering jewel of a song with a killer chorus, a heavy yet melodic number that drags you willingly along in its turbid wake. This one two sucker-punch opening is the perfect way to show why Journey are still so magnificently relevant in the 21st century!
'Still Believe In Love' is the first of several sensational ballads, and is a beautifully atmospheric song, Arnel's voice is spellbinding, while Neal and Jonathan show why they are such masters of delicacy and restraint when needed. The song has a lovely languid feel, with Randy and Narada provide a masterclass in rhythmic understatement. Kicking things into top gear, next the band tear into the mesmerising 'You Got The Best Of Me', which is an absolute monster! The chorus is simply infectious, effortlessly insinuating itself into your subconscious – I defy you not to sing along to this – as it's nigh on impossible not to! This is a pulsing rocker which just rips along effortlessly, and is now a staple of the band's live set – and rightly so too!
'Learn To Love Again' is the second ballad, and is an achingly beautiful song. Again, Arnel pours his heart and soul into it, injecting it with gorgeous melancholy – it absolutely deserves to be a huge hit, The Carpenters themselves would have had a number one hit with such a beautiful number back in the day. The ever-wonderful lead off single 'The Way We Used To Be' follows, and (as you doubtless know by now) is a mid-paced rocker with a colossal chorus, and some inspired lead work by Neal, who simply smoulders throughout.
'Come Away With Me' is an even more up-tempo rocker, which for my money, would comfortably sat on either 'Escape' or 'Frontiers', such is its surging urgency and drive, it is a red-blooded monster of a song. Neal Schon cuts loose with some blistering fretwork that is pure adrenalin driven … wonderful. 'Afterglow' is a dreamy and languid ballad, this time featuring a dazzling vocal from Deen Castronovo – whose voice is honestly magnificent here. This is another example of why Journey are the masters of the Melodic Rock/AOR genre, no one else could do this with such class or style.
'Let It Rain' sees the band doing something somewhat unexpected, by heading into quasi-funk territory. This is another song that could easily have come from the 'Frontiers' album, or (and bear with me here) on either of the two albums by The Storm – yes, the self-same ex-Journey outifit featuring Gregg Rolie, Steve Smith, Ross Valory, Josh Ramos, and Kevin Chalfont from back in the day – close your eyes … you'll see I'm right.
'Holdin' On' is another pounding rocker with a glorious riff, and again, I find myself thinking it could easily have come from 'Escape' (obviously a huge compliment), it's a blistering number that surges along with genuine urgency, the band playing with real power throughout. 'All Day And All Night' is a slower, but no less powerful song that has a powerful riff, and a thunderous percussive drive. Again, Neal Schon tears loose with some fiery lead work, funnily enough it almost brings to mind Toto at their funkiest!
'Don't Go' picks up the pace again, it's a song that reminds me of the band's 'Raised On Radio' era (how could that ever be a bad thing?) with a wonderfully impassioned vocal from Arnel, who again simply stuns with his range and power. 'United We Stand' has me scratching my head, as its riff is oddly familiar – yet I cannot put my finger on how or why. It's another mid-paced rocker with a plaintive chorus that demands attention, and is utterly wonderful, Journey being Journey and shining beautifully as a result.
'Life Rolls On' could have come (again) from any of Journeys most classic albums, it is a perfect balance of power and subtlety, with another genius solo from Mr Schon, I really love the smoothness of the vocal and the luscious backing vocals than enrich it so. 'Beautiful As You Are' is the coda to the standard album, it begins as a beautiful and haunting ballad, with a gentle arrangement and a haunting vocal from Arnel, before exploding into a gargantuan rocker with the band collectively soaring, it is mesmerising stuff.
The Japanese copy of the album comes with the added number 'Hard To Let It Go'. As beautiful as it is – it sort of feels like it doesn't quite 'belong' somehow, as if it is meant for something else? Regardless, it features some leisurely and wistful guitarwork from Neal, and yet another lovely vocal from Arnel, and as a bonus track, it works nicely. More than a decade since their last album, Journey proves they are masters of their craft, and have plenty of fuel left in the tank (or so to speak). Now please don't leave it so long until the next album – because we need more from you! Simply Marvellous!
#JourneyBand #NealSchon #Frontiers #SRL #PrecordLabel