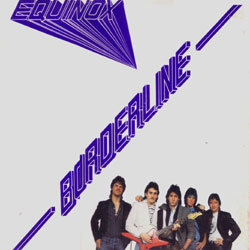 EQUINOX – 'BORDERLINE' (Independent Release) AOR/Melodic Rock
Review By: The Rock 'n' Roll Preacher
If you're a fan of obscure AOR/Melodic Rock, then Equinx's "Borderline" album is an absolute must-listen! Originally released in 1984, this CD is a true gem of the genre that deserves to be recognized in its own right.
From the moment the first track, 'Your Love', kicks in, it's clear that Equinox is a band with immense talent. Drew Evan Stewart's lead vocals are totally distinctive, and the rest of the band – Johnny "Jam" Wooten on guitar, Bobby 'R' on keyboards, Michael Hoover on bass, Gregory Finsley on drums – all contribute to create a sound that is simply mesmerizing.
Other standout tracks on the album include 'Lost Without You', 'Come With Me', and 'All Mine', each showcasing the band's ability to craft memorable, catchy tunes with a hard rock edge. But, it's not all about upbeat rockers – tracks like 'Don't You Know' and 'Susie' show a more introspective side of the band's song-writing that is equally impressive. The band also knows how to have big, dumb fun – just check out 'Rock 'n' Roll Party' for proof positive – it reminds me of Sammy Hagar's 'Rock 'n' Roll Weekend' – never a bad thing!
One of the things that makes "Borderline" such a special album is its production quality, courtesy of Bobby Hoke. Every instrument and vocal is mixed really well, creating a sound that is both powerful and nuanced – which considering their small budget is seriously impressive.
In terms of comparisons to other bands, Equinox could easily be mentioned in the same breath as early Sugarcreek, Sammy Hagar, 707, or Bon Jovi – but really, they have a sound that is all their own. It's a shame that they never achieved greater success, but thanks to this album, their music lives on.
In conclusion, if you're a fan of Pomp Rock or AOR and haven't yet discovered Equinox's "Borderline", you're in for a treat. With Drew Evan Stewart's fiery vocals and the band's top-notch musicianship, this album is a true find of the genre that deserves a place in any serious music collection. Highly recommended.