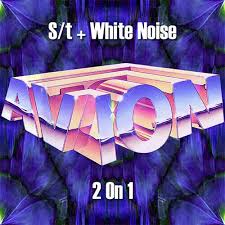 AVION – AVION/WHITE NOISE (2 On 1) (RCA/EMI) MELODIC ROCK
Review By: The Rock 'n' Roll Preacher
Avion was an iconic 1980s Melodic Rock band hailing from the land down under. Comprised of a group of incredibly talented musicians, they burst onto the scene in 1981 under the name Lionheart before changing their name to Avion. The original line-up consisted of Evan Murray on keyboards, Martin Toole on guitar, and three Waller brothers – Johnon drums, Kendall on bass guitar, and Randall on lead vocals and lead guitar.
Their music was classic Melodic Rock, and their two albums – 'Avion' (1983) and 'White Noise' (1987) – for me are true masterpieces that stand the test of time. The band's melodic, American-influenced AOR sound was nothing short of amazing, earning them a loyal cult following that still persists to this day. Unfortunately, tragedy struck the band when Murray passed away in a car accident in 1987, leading to the band's eventual disbandment.
Bob Clearmountain produced the debut, which given the quality of songs, and his stellar production – should have guaranteed success, but somehow it wasn't meant to be – which is a criminal injustice. The album even had three really classy singles: 'I Need You', the extraordinary 'Diamond Eyes' and 'Never Let Me Go' – any one of which should ha garnered them international success – but it simply didn't happen. You can only shake your head in bewilderment.
Losing their deal with RCA, the band now signed to EMI, and released the stunning lead-off single 'Celebration' from the forthcoming 'White Noise'. Again, and I still cannot believe this, the single didn't break them, and despite wonderful songs such as the celebratory 'Berlin Wall', the gorgeous 'Ships', or the ironically titled yet glorious 'Never Too Late', the band completely failed to make an impact. You truly could not make such idiocy up, Avion deserved to be absolutely huge!
Despite facing indifference in their home country, Avion left an indelible mark on the hearts and minds of lovers of the Melodic Rock music scene, and I believe, will always be remembered as a truly great Melodic Rock band. Their music is timeless and continues to inspire and captivate me … just go out and buy the albums? Okay!