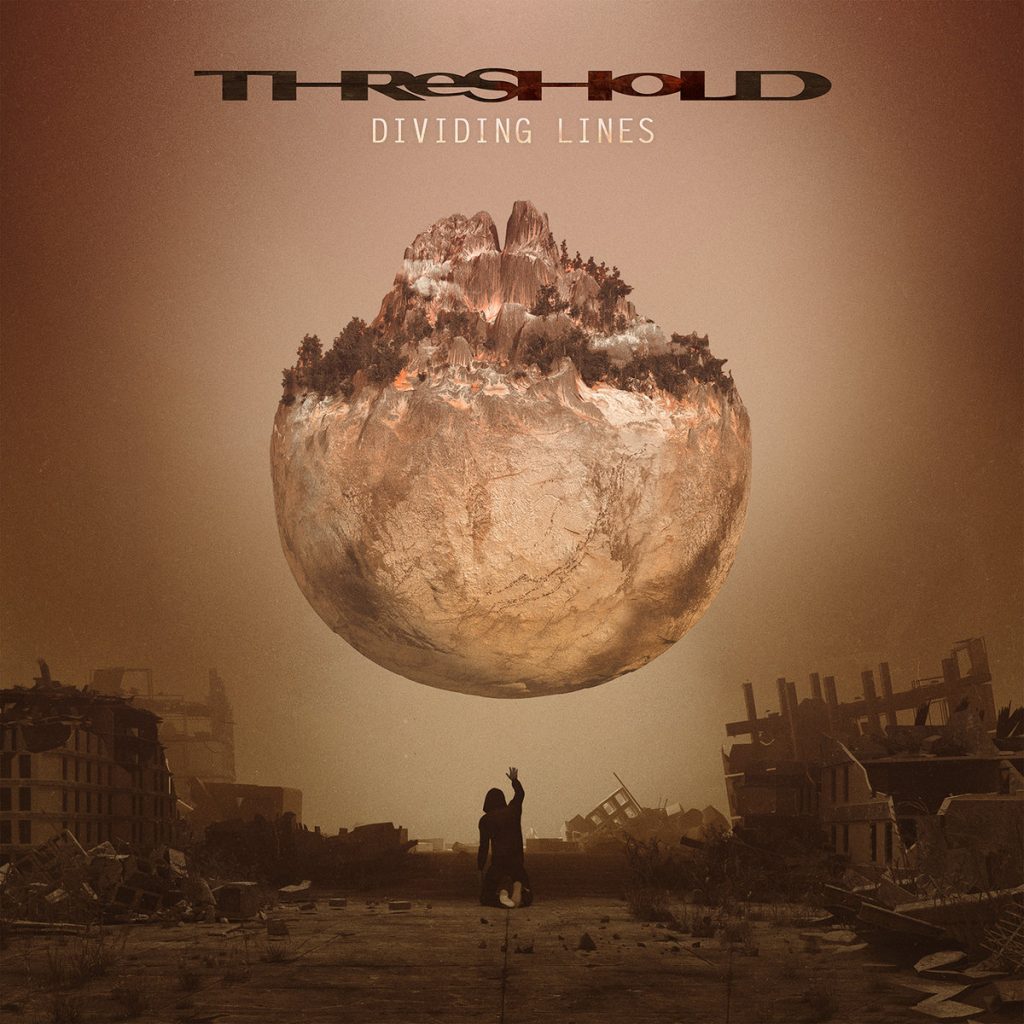 (Nuclear Blast) PROGRESSIVE METAL
I can honestly say that I have devotedly followed the Surrey based titans from their earliest days when they were signed to the Giant Electric Pea label, releasing their timeless 'Wounded Land' album, and every time they release a new album, I buy it on day one. The chaps had so much to live up to after the colossus that was 'Legends Of The Shires', that I was hard pressed to imagine how they could possibly top it – but you know what? They genuinely have!
'Dividing Lines' is a huge achievement for the quintet, it's far and away the best Progressive Metal album of 2022, hell, for my money, it's the best since 'The Legends…', it's perfect in every respect, beautifully written and arranged, lovingly crafted and played with dazzling elan, exquisitely produced, it is simply the album that will set the bar for other Progressive Metal bands to try to match.
Threshold understands that what really counts is not overly clever musicianship – because with out songs to match, it's a pointless exercise, and Threshold does have fantastic songs, it is what they do best as a unit. The band has also always had the very finest singers fronting them, and Glynn Morgan yet again turns in a sublime vocal performance, for my money he is without peer, and has shown time and again during both tenures in the ranks, just how special a find he has been.
The musicians of Threshold are second to none, guitarist Karl Groom has always been a personal hero of mine, his signature sound and tone has always been outstanding, and both his rhythm and lead work are flawless. Keyboardist Richard West has always bought a wonderful sense of dynamics to the band, his textured playing always adding great washes of light/shade and colour to proceedings. The rhythm section of bass guitarist Steve Anderson and drummer Johanne James are dizzyingly good, being both death-defyingly tight, and dextrously fluid, powering the band with colossal thunderous aplomb.
I think in many respects, what sets Threshold apart from so many other bands who try to match them, is that their music comfortably also sits very easily into the Melodic Rock genre, the songs having truly catchy and memorable choruses, few Progressive Metal bands seem to comprehend that this matters, but Threshold understands this organically, hence they sit astride both genres and reap the benefits accordingly.
Now twelve albums into their career, the band has never sounded more inspired or focussed, Karl Groom has honed his production skills to perfection, but again, you would never expect any less, as he is increasingly in demand for his production and mastering skills (see both Symphony Of Pain, Yes, Edenbridge, Pendragon, and Munroe's Thunder amongst others for proof). The album is simply a complete joy sonically, there is beautiful separation between instruments, and the sound 'sparkles' for lack of a better turn of phrase.
The band has always written songs with massively intelligent and thought-provoking lyrics, and of course – the song messages range from urban and personal alienation ('Silenced') through to our need to save the planet, not kill it with technology ('Let It Burn'), and to world's end through mutually assured destruction ('Defence Condition'), all sung with great eloquence and matching passion.
Though it's still a shorter album than its predecessor, it also has its share of epic moments, most notably the aforementioned 'Defence Condition', and the equally epic 'Domino Effect', and I can't help but think that when it comes to the latter, Tuomas Holopainen of Nightwish must be watching on enviously, as it could easily be the best song Nightwish never wrote – I imagine both these towering numbers will surely become staples within the Threshold live set, they will definitely be crowd-pleasers.
In 'Dividing Lines', Threshold have created yet another Magnum Opus, it is an album that will thrill both fans of Progressive Metal and Melodic Rock. It not only matches the quality of any of the band's previous albums, but towers head and shoulders above most bands from either
genre. It is also an album that will sound timeless and be totally relevant for many years to come. The little band from Surrey is now a world beating outfit – who can and will only ever get better and better with time – which should be enough to terrify the 'opposition'. Simply brilliant!