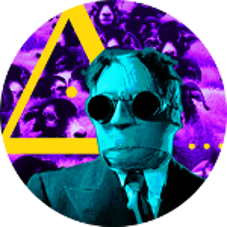 The WOB
The Graveyard Drift  Thursdays Midnight – 1am
The entity known to earth-dwellers as The W.O.B. is an incarnation of the Buddha who currently identifies as a volcano of a human female aged about 967 Earth-years. From her cave in the hills at the southernmost tip of Sicily, on the African continental plate, she channels music through an entity known to her only as "Fukijawa", and turns the mathematical formulas that flash brightly into her brain from Fuki-san into the music she releases as The Lowest of Low. She also writes symphonic music for orchestra, but nobody knows about that… oh. Oops.
She makes little films, paints, and designs oddball clothing. A former chef, she enjoys cooking nice things for her partner and their dog Shiro. Before all this, she worked as a translator and ghost-writer in a variety of languages. Before that, she was a swimming teacher and upland self-sufficiency farmer (loud laughter) in the dead centre of the North York Moors National Park in the UK. She makes a mean cheese and knows how to create a panoply of dishes from pretty much just potatoes. She's also a skilled herbalist.
A long, long time ago in the US, she was a writer, professional chef and award-winning sculptor. She can't drive a car and has always relied on her feet, a bicycle, or the kindness of strangers in dodgy vehicles for transportation. She has a deep interest in human religion and mythology, psychology, history, literature, techy geeky stuff and gadgets. She has over 4,000 books in her cave, most of which she's already read at least once. To relax, she swims, practices martial arts, and watches a LOT of anime. She is old enough to remember when Amazon was a forest.