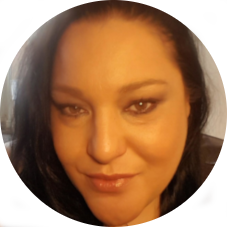 Miffi
Where to start with the lady called 'Miffi'? 'The self-titled 'Voice Of Reason' within Voodoo Radio (truth be told, the rest of us are simply too afraid to argue!). She runs all our social media platforms … with a rod of iron! Miffi is also a founding member of Voodoo Radio.
'Miffi' is a huge fan of Celtic Folk Punk, loving the likes of Ferocious Dog, The Levellers, The Leylines. The Dropkick Murphy's and their ilk, although her first musical love is Guns 'n' Roses. She is also a fervid fan of both Punk and Gothic music – and is also an avid festival goer.
Reputedly able to drink 'Any Living Punk' under the table, 'Miffi' is also able to quote Terry Pratchett and 'The Hitchhikers Guide To The Galaxy' at will. She loves the humour of 'Bottom', The 'Young Ones', 'Allo Allo', Al Murray and Reginald D Hunter, and is a huge Sci-Fi Geek – being a massive fan of 'The Orville', 'Red Dwarf', 'Firefly', 'Babylon 5', and 'Warehouse 13' to boot.
'Miffi' unswervingly believes that Rik Mayall is God and has a huge crush on W Axel Rose. She is also a passionate animal rights advocate and rescuer. In the past, she loved riding fast Japanese motorcycles – and has a burning hatred of Harley-Davidsons. Finally, she has a massive 'thing' for all things Unicorn!